UV glass range adhesives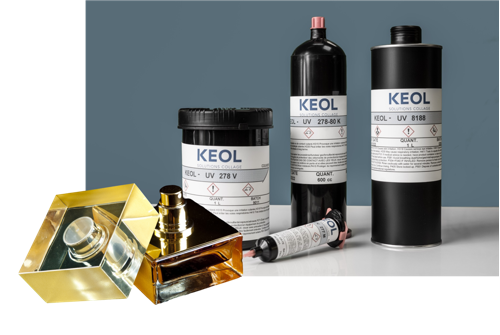 UV Glass adhesive, high technology at the service of bonding!
The high technicality of KEOL UV adhesive gives a new dimension to industrial bonding. Its chemical and mechanical properties make it essential for many manufacturing and assembly processes.
This adhesive, which polymerizes under ultraviolet radiation, allows rapid assembly, great flexibility combined with high resistance and high retention power.
UV-ACRYLATE range adhesives
ADVANTAGES

UV-EPOXY range adhesives
ADVANTAGES
Temperature resistance
Dry surface

What is UV glass adhesive?
UV adhesive from KEOL is a bonding and potting resin used to join, seal or solidify coatings or materials between them. This adhesive is ideal for fast and efficient fixing of glass and various materials.
Composed of an acrylate or epoxy resin, UV adhesive allows curing under the effect of UV rays and / or, in certain cases, under visible light. This adhesive is acclaimed by many sectors of activity because it allows a high technicality of assembly which meets in particular the needs of industrialists in the manufacture of electronic components, optical glasses, cosmetic containers or even medical and pharmaceutical equipment.
UV glass adhesive for which sectors of activity?
The high resistance of KEOL's UV glass bonding allows it to be used in various industrial applications:
In the field of electronics and electromechanics.
For bonding and sealing of components or bonding operations of optical glass screens.
Many constraints require a high performance of assembly and protection for a suitable protection: humidity, vibrations, shocks, maintenance etc.
Attaching screens to digital tools such as smartphones, tablets, computers, televisions or even household appliances that are increasingly equipped with touch screens requires a special technique. the UV adhesive allows optimal curing, a highly resistant fixing even for use under thermal constraints.
Our UV polymerization bonding system also allows great precision in the manufacture of microprocessors and the securing of electronic chips.
In the field of medical equipment.
Our USP CLASS VI or ISO10993 medical standard glass UV adhesive is used in the manufacturing processes of various medical devices such as UV bonding of connection elements or catheters, for gluing needles and syringes, dialysis filters, plastic tubes or cases on glass.
Our UV adhesive makes it possible to provide excellent resistance to medical equipment even in the sterilization phases. Beyond the high mechanical performance, the UV glass adhesive allows rapid curing, ideal for a series production line with high rates.
In the manufacture of cosmetic containers, perfume bottles and luxury products.
UV glass adhesive is used in the cosmetics sector for bonding bottles, flasks, tubes, jars in transparent glass or in opaque polymer. The strong elongation of the adhesive up to 400% elongation confers remarkable resistance to shock and vibration. There are many possibilities for combining different types of materials with glass. This allows the creation of design containers without traces of fixing or bonding for a perfect visual appearance. The same goes for many applications, particularly in the field of high-end optics or jewelry which requires careful assembly and quality.
In different industrial fields.
UV adhesive represents a solution of choice for the automotive sector which requires extreme precision and high quality of detail, particularly for the bonding of centering pins on car windshields. The high-precision bonding required by various sectors of the industry (mechanical , plastics, metalworking etc.) find an adequate answer in the use of UV glass adhesive.
What are the advantages of using UV adhesive for bonding glass?
If so many sectors of activity use UV glass adhesive technology, it is above all because it allows for extremely precise assemblies leaving no traces of bonding.
Choosing UV glass adhesive means choosing:
Optimal transparency which allows rendering and visual purity on all media.
Excellent adhesion to all types of substrates and many materials.
The bonds obtained display high resistance to humidity, aging and mechanical stresses, even high, as well as good resistance to high or low temperature variations.
Fast setting between 0.5 and 60 seconds. The hardening of our UV adhesive being caused by UV radiation, unlike cyano super adhesive, this leaves room for maneuver in the adjustments often necessary to perfectly balance the bonding operation.
Impact resistance
Strong elongation
1 component
Chemical resistance
Flexible adhesive
2 components
Thermal resistance