UV LED conveyors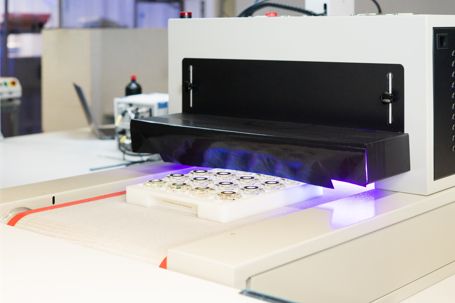 The UV / LED conveyor is used for the curing of UV photosensitive adhesives, in line production for medium to large series.
After application of the UV adhesive by a robot for depositing on the line, the adhesive parts are placed at the entrance of the conveyor which, by a system of belts, makes the parts pass under the UV lamp allowing the polymerization.
ADVANTAGES
Online production
Several existing wavelengths
Energy saving, easy to use.
Large insolation surface
For medium to large series
High efficiency

Reference

Usable area dimensions (mat)

Insolation intensity

Wavelength

Informations

Technical datasheet

KEOL-TUV 236
Multi-probe UV light tester. KEOL-TUV 236 can support 9 kinds of UV probes according to ultraviolet spectrum, measurement range, test hole diameter and application
Convoyeur sur mesure
Made to measure: max length and width of carpet 4 m - Lamp intensity up to 6W / cm2 - With feet and wheels - Height of the adjustable band
KEOL-CONV8
400 x 1500 mm
Up to 3W / cm²
365 à 405 nm