Adhesives HYBRID range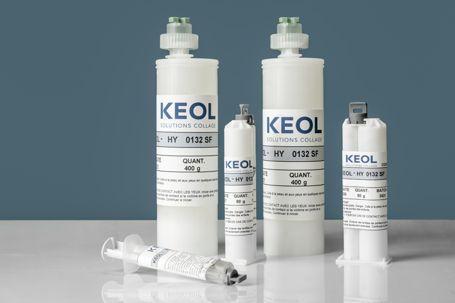 Hybrid adhesive is a two-component curable adhesive available in ethyl or methyl cyanoacrylate base for metal, plastic and glass assembly applications. The curing of the hybrid adhesive is achieved by mixing the two components.
The hybrid adhesive is extremely fast to cure. It bonds in seconds and repairs in minutes. It is strong, machinable and paintable, ideal for bridging gaps between joints.
HYBRID range adhesives
ADVANTAGES
Fills the gap between the rooms
Resistance to aging and shearing
Fast setting
Odourless
Transparent

Reference

Color

Viscosity

(mPa.s)

Hardness

Shore

Elongation

(%)

Tensile

Strengh

(MPa)

Technical

datasheet

KEOL-0124-SR
Transparent / white
195 000 - 63 000
56D
-
-
KEOL-HY 0123 WM
Transparent / grey
198 000 - 68 500
-
-
-
KEOL-HY 0122 W
Transparent
188 000 - 52 000
-
-
-
KEOL-HY 0132 SF
Transparent
12 000
76A
259
2
Impact resistance
Strong elongation
1 component
Chemical resistance
Flexible adhesive
2 components
Thermal resistance