END OF YEAR CLOSING 2021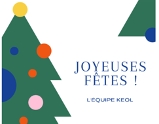 After a year of challenges, the whole KEOL team will take a little well-deserved break, to find you in great shape in 2022.
KEOL will be closed from Thursday, December 23 in the evening and will reopen its doors on Monday, January 3, 2022.
KEOL wishes you an excellent holiday season.